Unified Payment Interface (UPI): Introduction:
UPI, or Unified Payment Interface, revolutionizes inter-bank transactions via mobile apps in India.
Regulated by RBI and facilitated by NPCI, UPI enables instant, fee-free fund transfers.
Unified Payment Interface (UPI): Basics:
UPI ID: Unique bank account identifier for sending/receiving funds.
UPI PIN: 4/6-digit PIN for secure money transfer.
Mobile payment apps like Paytm simplify UPI transactions using contacts or numbers.
Unified Payment Interface (UPI): Features:
Speed: Payments completed within seconds.
Wide Acceptance: Almost all banks offer UPI transactions via mobile apps.
Security: Requires user's SIM card and secret MPIN.
Request Money: Unique feature to request funds from individuals.
Bill Payments: Set up reminders and pay bills easily.
Complaints: Easy reporting of account issues.
24/7 Availability: Payments accessible round the clock.
No Charges: UPI transactions are free of cost.
Unified Payment Interface (UPI): Benefits:
Effortless Online Payments: Simplified digital transactions.
Secure Transfers: Safe money transfer method.
Diverse Payments: Bill payments, e-commerce shopping, QR code scanning.
Convenience: Payments at local stores through QR codes.
Rewards: Regular UPI users receive discounts, cashback, and rewards.
Unified Payment Interface (UPI): Registration Process:
Download UPI app (e.g., Paytm, PhonePe, etc).
Verify mobile number via SMS.
Choose bank from list; ensure matching registered mobile number.
Set UPI PIN using debit card details.
Account now linked via UPI for easy transactions.
Generating UPI PIN:
Access UPI app (e.g., Paytm).
Navigate to 'Profile' and 'Payment Settings'.
Click 'UPI & Linked Bank Accounts'.
Set PIN for bank account using card details and OTP.
New UPI PIN set successfully.
Generating M-PIN:
Open app, select 'Create M-PIN'.
Input debit card details and received OTP.
Choose desired M-PIN and submit.
Understanding UPI Transaction:
UPI transfers money between bank accounts.
Methods: UPI ID, mobile number, QR code, account number.
UPI PIN: Essential for secure fund transfer.
Benefits of UPI:
Seamless Online Payments:
Simplified digital transactions for users.
Reduces complexities of traditional banking methods.
Robust Security:
Ensures safe money transfers between accounts.
Dual-factor authentication enhances protection.
Diverse Payment Options:
Pay bills, shop on e-commerce platforms.
Scan QR codes for payments at local stores.
Local Store Convenience:
QR code-based payments at nearby stores.
Convenient for daily transactions.
Incentives for Usage:
Regular users receive discounts, cashback, rewards.
Encourages frequent usage of UPI.
UPI Transaction Limits and Fees
Transaction Limit: UPI payment apps like Paytm adhere to RBI guidelines for transaction safety. Currently, the UPI transaction limit on the Paytm app stands at Rs. 1 lakh per account per day, within a 24-hour period. Note that this limit can differ among banks and might even have lower caps.
Transaction Charges: Paytm, the UPI-enabled mobile payment app, does not levy any charges for UPI transactions. Despite the daily limit of Rs. 1 lakh, Paytm UPI transactions come free of any additional charges.
How UPI Works:
VPA Requirement: Similar to needing a credit/debit card for card payments, UPI transactions require a Virtual Payment Address (VPA). A VPA is a virtual identifier used to facilitate UPI transfers.
Creating VPA: Upon setting up a UPI account on apps like Paytm, your VPA is automatically generated. To execute a UPI transaction, log into the app, click 'UPI/Send Money To Anyone', choose the recipient from contacts, input their mobile number, or scan their QR code. Select your bank account, proceed, enter UPI PIN, and the transfer is completed instantly.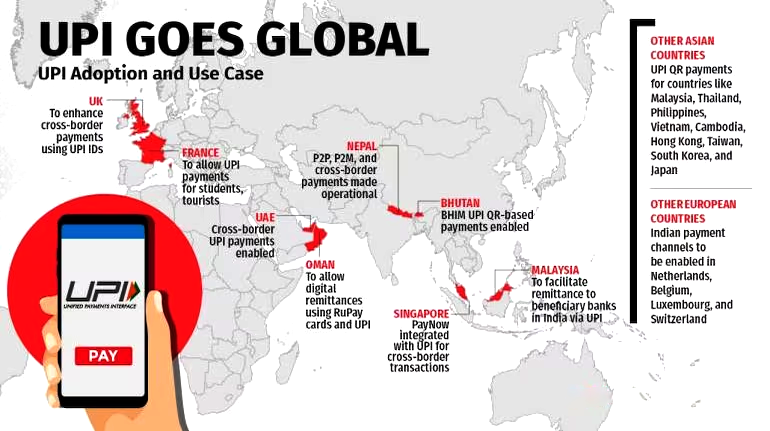 Participants in UPI:
Remitter bank
Beneficiary bank
NPCI
Merchants
Bank account holder
Payer PSP (Payment Service Provider)
Payee PSP
Introduction to UPI 2.0:
Enhanced UPI Version: UPI 2.0 represents an upgraded iteration of UPI, introducing improved features and advantages.
Key Features of UPI 2.0:
Utility Bill Payment: UPI 2.0 enables payment of utility bills like rent, electricity using UPI.
Pre-Authorized Transactions: Users can authorize regular payments, such as mobile bills, ahead of their due dates.
Biometric Authentication: UPI 2.0 incorporates biometric features like fingerprint mapping and iris scanning, heightening transaction security.
Transaction Speed Control: UPI 2.0 monitors transaction speed to thwart fraudulent activities.
Cross-Linked Mobile Numbers: UPI 2.0 permits transactions even when mobile numbers are linked to other accounts.
Aadhaar-Based Transactions: UPI 2.0 facilitates direct bank transactions via Aadhaar numbers.
UPI's Evolution and Market Share:
Historical Perspective: Before UPI, transferring funds between banks was cumbersome. UPI's inception transformed this by allowing instant inter-bank transactions via mobile devices.
Rapid Adoption: UPI drastically simplified financial transactions, eliminating the need for remembering account numbers and IFSC codes.
Market Growth: The UPI market share has expanded significantly over time:

August 2016: 93,000 transactions
March 2019: 800 million transactions
July 2021: 43.25 crore transactions, valued at Rs. 56,735 crore
December 2021: Total transaction value reached Rs. 8.27 lakh crore, showing 99% YoY growth.
June 2021: Recorded 1.94 million IPO mandates
July 2021: Increased to 7.66 million IPO mandates

Dominance in Digital Payments: UPI holds a substantial share in India's annual $2 trillion digital payment sector.
3-Recent RBI Announcements to Boost UPI and UPI Lite: A New Era of Digital Payments
1. Conversational Payments on UPI:
Overview: RBI introduces Conversational Payments on UPI, a game-changing feature.
AI-Powered Transactions: Users can initiate and complete transactions via AI-driven conversations.
Enhanced Ease of Use: Integrating AI enhances UPI's user-friendliness and accessibility.
Multi-Lingual Support: Initially in Hindi and English, expanding to other Indian languages.
Inclusion and Adoption: Simplified AI interface promotes adoption, particularly among seniors and people with disabilities.
Potential Transformation: Expected to reshape India's digital payment ecosystem.
2. UPI Lite Transaction Limit Raised:
Enhanced Limit: RBI increases UPI Lite's transaction limit from Rs 200 to Rs 500.
UPI Lite's Purpose: Optimizes processing resources for small-value transactions, reducing failures.
Efficiency and Time: Facilitates quick transactions without requiring a PIN code.
Balancing Risks: Balance ceiling maintained at Rs 2,000 for security via two-factor authentication.
Widespread Availability: UPI Lite present on platforms like Paytm, BHIM App, GooglePay, and others.
Bank Participation: Banks like Canara, HDFC, Indian Bank, Kotak Mahindra, and more are part of UPI Lite.
3. Offline UPI Payments via NFC Technology:
Empowering Offline Transactions: RBI introduces offline payments using NFC technology for UPI Lite.
Overcoming Connectivity Issues: Enables retail digital payments even in weak or absent internet/telecom connectivity.
Ensuring Speed and Reliability: Minimizes transaction declines, ensuring swift payments.
NPCI's Role: Instructions to NPCI, UPI and UPI Lite manager, to facilitate implementation.
Find More News Related to Banking