Trump Told Georgia Secretary of State He Believed States Would Be 'Flipping' to Him After Election
Shortly before the January 6 Capitol riot, former President Donald Trump urged Georgia Secretary of State Brad Raffensperger to see the fraud he believed occurred and expressed that he thought other states would be overturning their results.
Raffensperger found himself at the center of Trump's fight to secure a second term in office and was a personal target of the former president. Refusing to acknowledge he could have lost Georgia because of the size of his rallies, Trump tried to convince Raffensperger that the number of fraudulent votes far outnumbered the nearly 12,000 ballots that gave President Joe Biden his victory in the state.
"There's turmoil in Georgia and other places," Trump said on phone, according to Raffensperger's book, Integrity Counts. "You're not the only one, I mean. We have other states that I believe will be flipping to us very shortly."
On the phone call, Trump claimed his team would provide accurate numbers in the future but estimated there were about 50,000 fraudulent ballots, although Trump acknowledged he only needed 11,779 to win the state.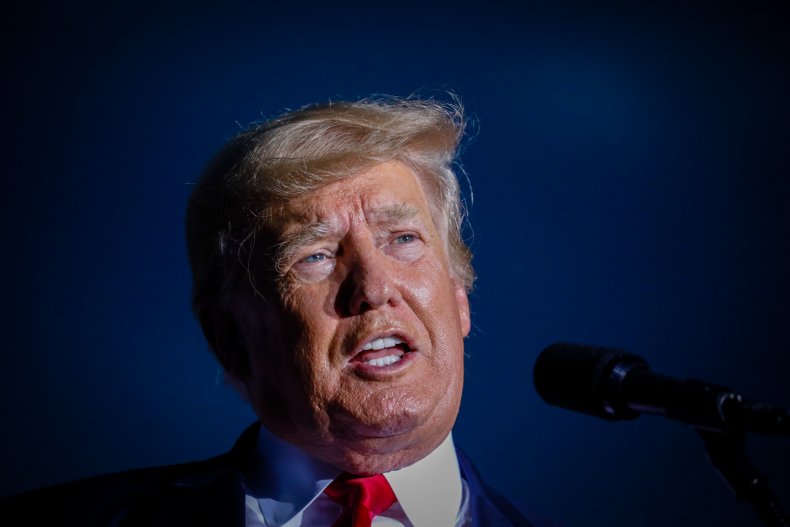 While Trump maintains he won the election and Mike Lindell, CEO of MyPillow and a staunch ally, claims to have evidence he'll present to the Supreme Court that could overturn the election, there's been no evidence that enough voter fraud occurred that would have changed the outcome of the 2020 presidential election.
Trump repeatedly expressed on the January call that he was surprised at having lost the state, telling Raffensperger that the secretary of state "knew" he didn't lose. The former president often uses the size of his rallies compared to Biden's as proof his support outnumbered his challenger, reiterating that it's "just not possible to have lost Georgia."
But Raffensperger sees Trump's comparison of rally attendees to voter turnout as a false equivalency.
"Many of those people who attended the rallies came from other states," Raffensperger wrote in the book. "In the case of the rallies held during Georgia's Senate runoff, many people attended but didn't live in Georgia and couldn't vote in our runoff. So the attendance in those cases gives a misleading impression of actual Georgia voters."
While Trump attempted to get Raffensperger to agree with him on the numbers, the secretary of state maintained that Trump lost the election, telling him that the "data you have is wrong."
Raffensperger's refusal to cite Trump as the rightful winner of the election sparked threats against himself and his family. One such threat included the message to "please pray" because the person plans "for the death of you and your family every day," according to his book. Raffensperger called it "unbelievable" that people were threatening his family "in the name of Jesus if we did not do their bidding."
Months later, Raffensperger told Newsweek that the threats have died down because people are "coming to the hard realization that Trump lost the states that he lost."
"There's no question that [former] President Trump did not win the state of Georgia," Raffensperger told Newsweek. "We looked down every avenue and every rabbit trail so we could say to people with confidence these are the results."
Published at Tue, 02 Nov 2021 07:00:01 +0000
https://www.newsweek.com/trump-told-georgia-secretary-state-he-believed-states-would-flipping-him-after-election-1644666