Trump Aide Mark Meadows Skips January 6 Testimony Despite Legal Threats
Mark Meadows, who was Donald Trump's chief of staff when a mob of Trump supporters stormed the U.S. Capitol in an attempt to stop the certification of Joe Biden's election, now faces potential criminal or civil action after he apparently didn't show up to a scheduled deposition Friday morning.
U.S. Representative Bennie Thompson, a Mississippi Democrat who is chairing the select committee investigating the January 6 insurrection, had threatened possible action in a Thursday evening letter to Meadows' lawyer, former U.S. Deputy Attorney General George Terwilliger III.
Terwilliger's office told Newsweek in a statement that there is a "sharp legal dispute with the committee."
"No matter how important the subject matter of the committee's work, decades of litigation over executive privilege shows how critically important it is for a president to have access to advice and counsel without fear that political opponents in Congress will later be able to pull away the shield of confidentiality that protects candor in those communications," the statement read.
Meadows was scheduled to testify privately in front of the House panel at 10 a.m. Friday. He has challenged the subpoena, arguing that he has executive privilege—a right afforded to presidents and their allies to maintain confidential discussions and records. Biden's administration declined to extend that privilege to Meadows over the investigation into any role Trump had in the insurrection.
Thompson's office didn't immediately respond to Newsweek's request for comment.
In a letter, publicly released Thursday night, Thompson warned that Meadows' failure to show to Friday's private hearing or failure to release documents "could result in a referral from the House of Representatives to the Department of Justice for criminal charges—as well as the possibility of having a civil action."
"Meadows has not produced even a single document in response to the Select Committee's subpoena," Thompson wrote. "Simply put, there is no valid legal basis for Mr. Meadows's continued resistance to the Select Committee's subpoena."
This is a breaking news story and will be updated.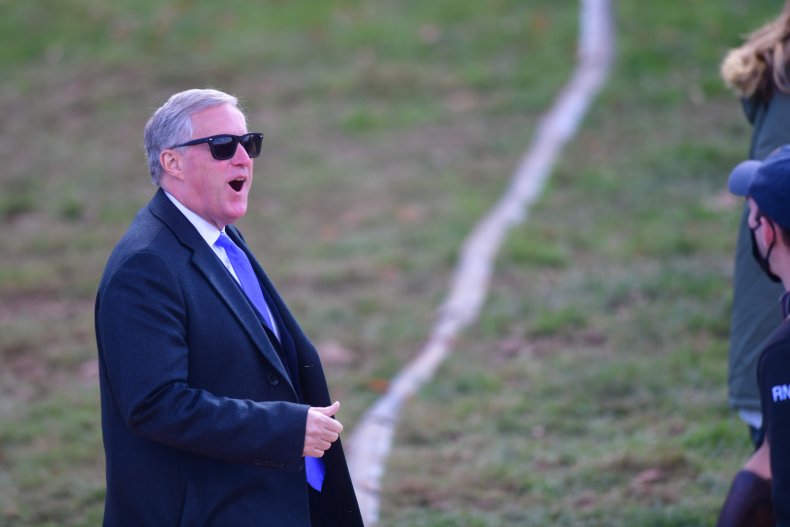 Published at Fri, 12 Nov 2021 16:54:24 +0000
https://www.newsweek.com/trump-aide-mark-meadows-skips-january-6-testimony-despite-legal-threats-1648691