Team of 10 UK troops sent to Poland to assist on Belarus border
Team of 10 UK troops sent to Poland to assist on Belarus border
MoD says small team of military personnel deployed after agreement with Polish government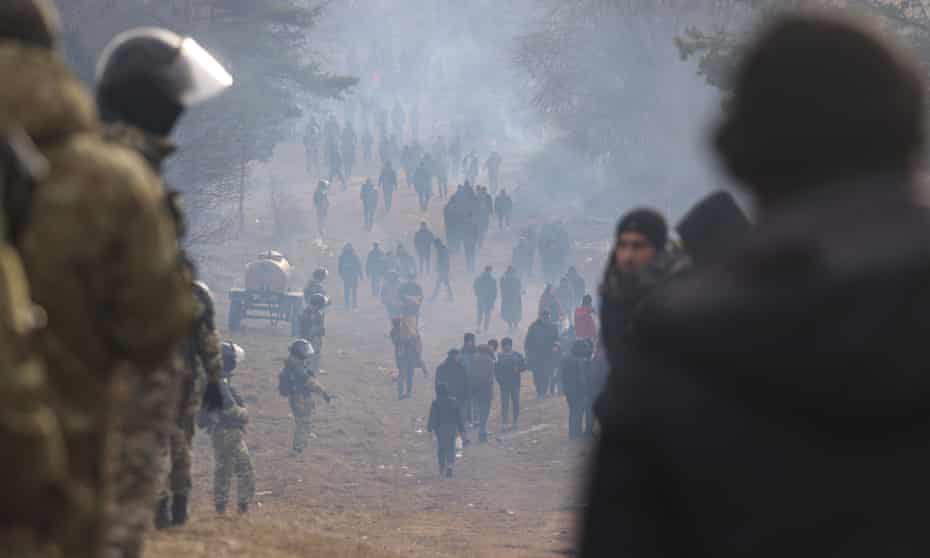 Britain has sent a team of about 10 soldiers to Poland to help Warsaw strengthen its border with Belarus, where groups of migrants have been stranded attempting to cross into the EU.
The troops arrived on Thursday and are expected to spend a few days in the country, including visiting the border at the request of the Polish government to work out if they can repair or toughen the fencing.
The Ministry of Defence said the mission was focused only on "engineering support", and insiders said there was no additional plan for British troops to police the border. Whitehall sources said it was appropriate to consider helping given that "it is Belarus that is pushing migrants towards the border".
The MoD said: "The UK and Poland have a long history of friendship and are Nato allies. A small team of UK armed forces personnel have deployed following an agreement with the Polish government to explore how we can provide engineering support to address the ongoing situation at the Belarus border."
Britain had been planning to announce the mission next week, but news of the deployment leaked and was then confirmed on Twitter by the Polish defence minister, Mariusz Błaszczak, who said the aim was "to cooperate in strengthening the [border] fence".
Nato has criticised Belarus over the tensions at the border with Poland. In a statement it said: "The North Atlantic Council strongly condemns the continued instrumentalisation of irregular migration artificially created by Belarus as part of hybrid actions targeted against Poland, Lithuania, and Latvia for political purposes.
"These callous actions endanger the lives of vulnerable people … Nato allies call on Belarus to cease these actions, to respect human rights and fundamental freedoms, and to abide by international law."
Topics
Poland
Belarus
Foreign policy
Europe
Ministry of Defence
Nato
news
" target="_blank" rel="noreferrer" data-ignore="global-link-styling">
Reuse this content
Published at Fri, 12 Nov 2021 15:43:14 +0000
https://www.theguardian.com/uk-news/2021/nov/12/british-troops-sent-to-poland-to-assist-with-belarus-border-situation