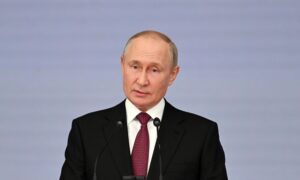 A scramble for flight tickets, mass arrests, and condemnation from global leaders. Russian President Vladimir Putin raises the stakes with yesterday's military mobilization order.
The Justice Department is regaining access to classified documents in its criminal investigation of Former President Trump.  Find out why a federal court reversed a stay on the documents in question yesterday.
With fentanyl deaths in the U.S. nearing 80,000 in the past year, Texas Governor Greg Abbott has come up with a new classification for Mexican drug cartels.
Topics in this episode include:
1. Biden Condemns Putin's Dangerous Rhetoric
2. Flights Out of Russia Sell Out
3. Putin Orders Russia's First Military Draft Since WWII
4. Putin Escalates War in Ukraine: Expert
5. DOJ Allowed to Resume Classified Records Review
6. NY AG Files Civil Fraud Lawsuit Against Trump
7. Former US Attorney General Bill Barr Criticizes NY AG
8. Hurricane Fiona Dumps Heavy Rain in Bahamas
9. TX Gov. Designates Mexican Cartels as Terrorists
10. Fed: Housing Market Heading For Correction
11. Suspended NBA/WNBA Team Owner Wants to Sell Teams
12. Kia, Hyundai Cars Vulnerable to Theft
13. NASA Dart Spacecraft Launches in Attempt to Alter Asteroid's Path
14. Highway Beer Spill
15. Captain America Helps Repair Roofs in New Orleans
16. 2022 Comedy Pet Photography Award Winners
* Click the "Save" button below the video to access it later on "My List."
Follow EpochTV on social media:
Twitter: https://twitter.com/EpochTVus
Rumble: https://rumble.com/c/EpochTV
Truth Social:
Gettr: https://gettr.com/user/epochtv
Facebook: https://www.facebook.com/EpochTVus
Gab: https://gab.com/EpochTV
Telegram: