Man Arrested After Allegedly Threatening People at COVID Vaccine Clinic for Children
A Kansas man was arrested on Saturday after a parent and their child said they were trying to enter a vaccine clinic when he waved a stick at them.
The suspect was placed under arrest for aggravated assault Saturday morning, according to the Lawrence Police Department.
The 40-year-old man, Justin Paul Spiehs, is a well-known anti-mask protester in the area, according to the Kansas Reflector. The paper reported he's demonstrated outside of Lawrence Public Schools buildings, where there is a mask mandate for students.
The incident on Saturday took place at a middle school where a local health department was holding a vaccine clinic for children.
In an email to Newsweek, the Lawrence Police Department said it responded to the incident shortly before before 10 a.m. Saturday.
"Officers arrived on scene and contacted the victim and the victim's child who reported they were attempting to enter a nearby vaccine clinic when the suspect confronted them," Police Lt. David Ernst wrote. "The victims reported the suspect separated a stick from a sign the suspect was holding and began to wave the stick at them, placing the victims in fear of bodily harm."
Ernst said that police will submit an affidavit to the Douglas County District Attorney's Office "for charging review."
Daniel Smith, a spokesperson for Lawrence-Douglas County Public Health, which was running the clinic, told the Kansas Reflector that the department hasn't had other "notable incidents" at its vaccine clinics so far and, didn't have much information about the one on Saturday.
"What we know is mostly heard from the parents coming in. Our primary concern is their safety," Smith said.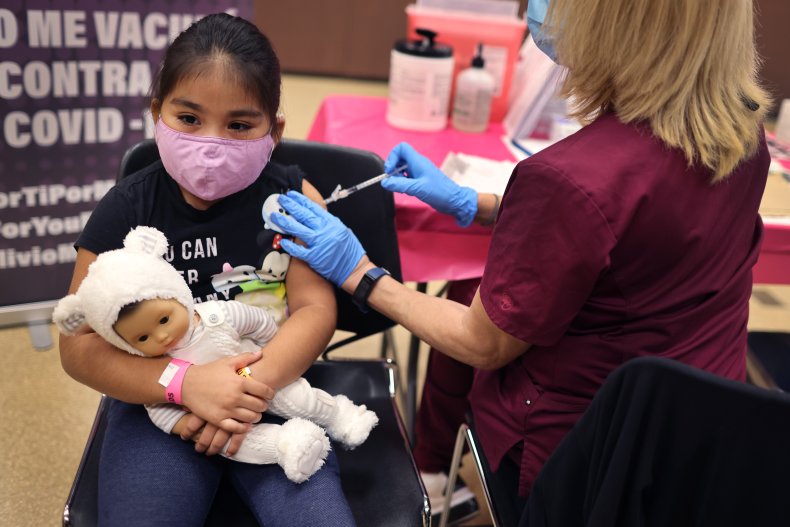 In separate incidents across the country, people have been accused of intimidating health officials over COVID-19 vaccines.
In Colorado in September, three mobile COVID-19 vaccination clinics were temporarily shut down after motorists harassed staff members.
"While this behavior appears to be from a small group of radical-minded individuals who are empowered by disinformation and lies, these incidents appear to be occurring more frequently and with more intensity," Dr. Dawn Comstock, the executive director Jefferson County Public Health, a Colorado public health department, said at the time. "This violence toward public health is unacceptable."
In California in May, a group of gun-toting California women calling themselves a "Mamalitia" was accused of intimidating public health officials over vaccines.
Last month, a man in Texas was indicted for allegedly threatening a Maryland doctor who advocated for the COVID-19 vaccine.
Published at Sun, 14 Nov 2021 23:35:12 +0000
https://www.newsweek.com/man-arrested-after-allegedly-threatening-people-covid-vaccine-clinic-children-1649117