Israel's military says ground troops have begun to attack Gaza – follow updates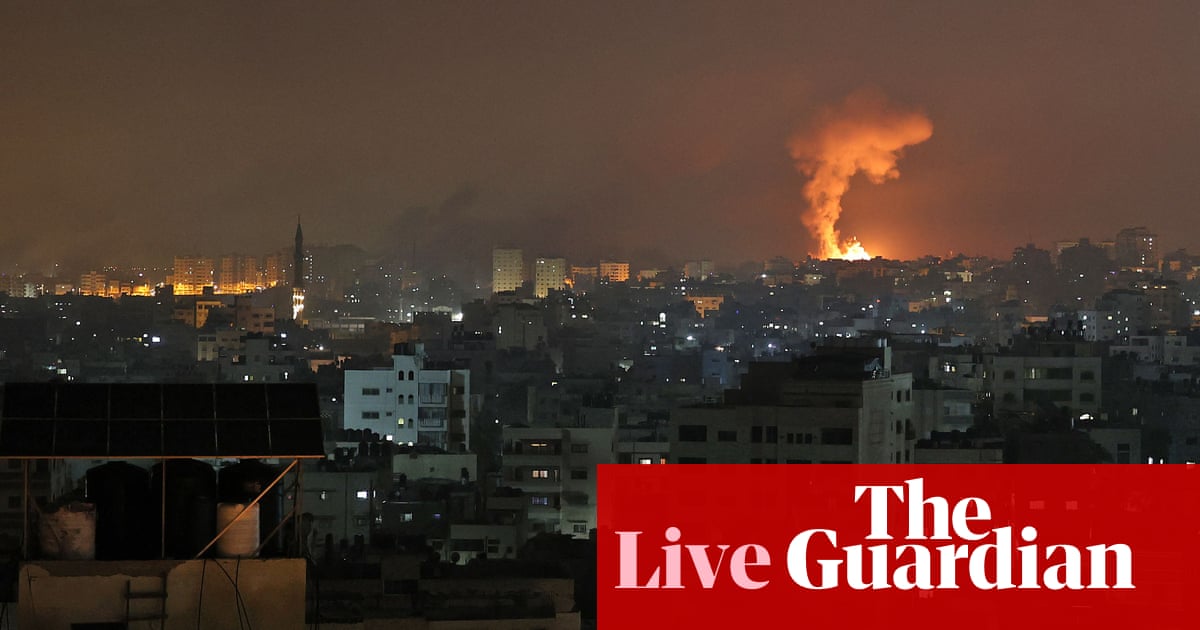 More on the US advising citizens not to travel to Israel and the Palestinian territories:
In a notice issued Thursday, the US State Department raised its travel advisory for Israel, the West Bank and Gaza to Level 3 — "reconsider travel." It had previously been at Level 2, which recommends travelers "exercise increased caution."
The revised alert cited continuing rocket fire from Gaza into areas across southern and central Israel, including Jerusalem, Israel's military response to the attacks and a "marked increase" in violence and protests throughout Israel.
"Protests and violence may continue to occur, some with little or no warning," it said.
AFP reports that the Israeli army now says it has not entered the Gaza strip:
Journalist Anshel Pfeffer, who reports for Haaretz and the Economist, has tweeted: "The Israeli army's line now, after a series of contradicting briefings over the last couple of hours, is that there are no Israeli troops actually inside the Gaza strip right now. Make of it what you will."
The Al Quds newspaper reports, citing the public broadcaster KAN, that the US has "warned its citizens not to travel to Israel and is considering halting flights to Tel Aviv":
According to Israeli media (Amichai Stein is a correspondent for KAN, Israel's public broadcaster), an IDF spokesperson told his colleague that ground troops did not enter the Gaza strip:
What the IDF said in their tweet was that "IDF air and ground troops are currently attacking in the Gaza Strip".
Again, there is still confusion over whether this escalation signals the launch of a full-scale ground invasion of Gaza by Israel.
Journalist Anshel Pfeffer, who reports for Haaretz and the Economist, tweeted:
Some kind of Israeli ground offensive has began in the last hour in the Gaza Strip. It's unclear at present what scale of forces, whether it's the four brigades that were in staging-areas or a smaller force.
No confirmed details yet but this doesn't like a large-scale incursion in to Gaza quite yet but something smaller.

Conflicting reports from different sources right now over whether the "ground attack" is actual boots on the ground or just ground forces (tanks, artillery) firing in to the Gaza Strip. We should know soon enough
This week's violence between Israel and Gaza's Hamas rulers has killed 103 Palestinians, including 27 children, and wounded 530 people in the impoverished territory. Israeli airstrikes have pounded apartments, blown up cars and toppled buildings, the Associated Press reports.
And Gaza's hospitals were already struggling:
"Before the military attacks, we had major shortages and could barely manage with the second (virus) wave," said Gaza Health Ministry official Abdelatif al-Hajj by phone as bombs thundered in the background. "Now casualties are coming from all directions, really critical casualties. I fear a total collapse."
Gutted by years of conflict, the impoverished health care system in the territory of more than 2 million people has always been vulnerable. Bitter division between Hamas and the West Bank-based Palestinian Authority and a nearly 14-year blockade imposed by Israel with Egypt's help also has strangled the infrastructure. There are shortages of equipment and supplies such as blood bags, surgical lamps, anaesthesia and antibiotics.
Personal protection gear, breathing machines and oxygen tanks remain even scarcer.
Last month, Gaza's daily coronavirus cases and deaths hit record highs, fuelled by the spread of a variant that first appeared in Britain, relaxation of movement restrictions during Ramadan, and deepening public apathy and intransigence.
On Thursday, the US Defence Department flew about 120 personnel out of Israel as a precaution in light of the ongoing violence there, AP reported, citing Pentagon press secretary John Kirby, who said the American personnel departed on Thursday on a US Air Force C-17 transport plane.
They had been in Israel to plan for a future bilateral exercise. Kirby said the conference was scheduled to end this week but the exit was accelerated by a few days.
The response to that decision to meet in three days' time (if you are in New York, where the UN Security Council is located, and where it is currently Thursday), rather than immediately – from the Guardian's world affairs editor, Julian Borger:
US Ambassador to the United Nations, Linda Thomas-Greenfield, has just tweeted that the UN Security Council will meet on Sunday to "to discuss the situation in Israel and Gaza".
She added: "The US will continue to actively engage in diplomacy at the highest levels to try to de-escalate tensions."
Here is what it is like in Gaza at the moment, per a report from the Associated Press:
"Masses of red flames illuminated the skies as the deafening blasts from the outskirts of Gaza City jolted people awake. The strikes were so strong that people inside the city, several kilometres away, could be heard screaming in fear."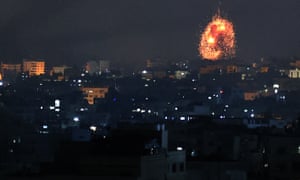 Army spokesman Jonathan Conricus confirmed that Israeli soldiers had entered the Palestinian enclave, without giving any numbers, AFP reports.
But Reuters are far more circumspect, reporting:
Although the statement gave no further details, Israeli military affairs correspondents who are briefed regularly by the armed forces said it was not a ground invasion, and that troops were firing artillery from Israel's side of the border.
Residents of northern Gaza, near the Israeli frontier, said they had seen no sign of ground troops inside the enclave but reported heavy artillery fire and dozens of air strikes.
It is not yet clear whether the operation is a full-scale invasion of Gaza by Israel, or is at this stage a targeted attack on military group strongholds.
It is currently just after 1am in Gaza on Friday, 14 May.
What we know so far is that an hour ago, as we saw in that earlier post, the Israeli Defence Force tweeted, "IDF air and ground troops are currently attacking in the Gaza Strip".
Israeli Prime Minister Benjamin Netanyahu tweeted in Hebrew a few minutes later:
I said that we would charge a very heavy price from Hamas. We do it and we will continue to do it with great intensity. The last word was not said and this operation will continue as long as necessary.

We give one hundred percent backing to the police, the Border Police and the rest of the security forces to restore law and order to the cities of Israel – we will not tolerate anarchy.
This is just in from the Guardian's Jerusalem correspondent, Oliver Holmes:
Israel appears to have launched its most intense attack on Gaza so far.

Hazem Balousha, a journalist in Gaza city, said residents heard intense bombardments and attacks to the north of the strip since just after midnight.

"It lasted half an hour," he said. "Very loud; buildings were shaking. My building was really shaking."
Hi, Helen Sullivan joining you now.
I will be bringing you developments in this story as they happen. Please do send any news you think we may have missed to [email protected] or to me on Twitter @helenrsullivan.
Israel's military has said "ground troops" have begun attacking in the Gaza strip, following days of airstrikes and prompting fears of a ground invasion.
"[Israel Defense Forces] air and ground troops are currently attacking in the Gaza Strip," the military said in a statement just after midnight local time, without providing further details.
Shortly after, in an apparent reference to the operation, Prime Minister Benjamin Netanyahu tweeted: "The last word was not said and this operation will continue as long as necessary."
Published at Thu, 13 May 2021 23:26:13 +0000
Attribution – For more Information here is the Article Post Source: https://www.theguardian.com/world/live/2021/may/13/israel-launches-ground-operation-in-gaza-after-days-of-airsstrikes-follow-updates