Four Arizona Kids Injured in Second Incident This Week of Bounce House Being Lifted by Wind
Four Arizona kids have been injured in the second incident this week of bounce houses being lifted by the wind.
The most recent incident occurred on Thursday afternoon. The bounce house was used in a birthday party at a neighborhood park in Mesa, Arizona. Several kids were playing inside when strong winds sent it flying into the air around 4 p.m. local time.
The wind sent the bounce house flying several feet, witnesses told KPHO-TV. Four children, ages 5 to 11, suffered moderate to severe injuries as a result. The children went to a nearby hospital, but their specific injuries and current conditions remain unclear.
Police and other officials with Mesa Fire and Medical came to the scene after the incident occurred. The local winds approached 22 miles an hour on Thursday afternoon, according to Arizona's Weather Authority.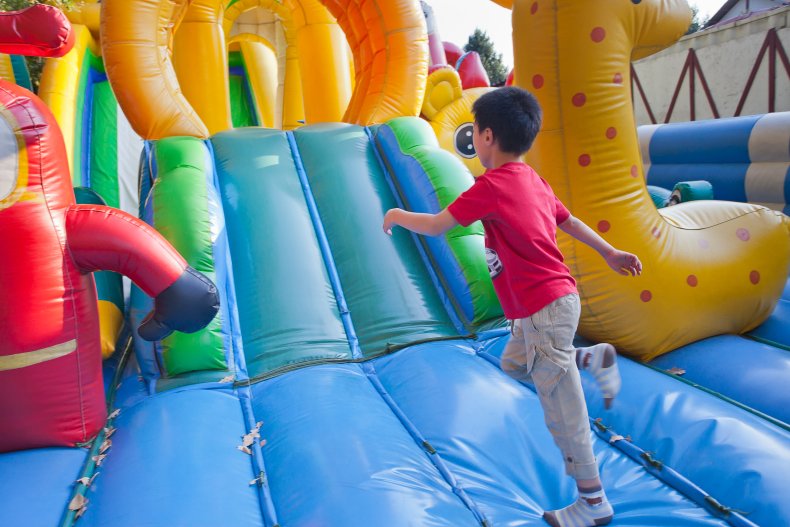 The first incident of a flying bounce house this week occurred on Sunday in Paulden, Arizona. On that day, a dust devil picked up a bounce house that had been secured to the ground with stakes and sandbags.
The dust devil reportedly lifted the bounce house 25 feet into the air, sending the it and its two children inside over a neighbor's fence, according to KVOA. The house bounced twice after landing approximately 75 feet away from its initial location.
The two girls inside, ages 6 and 7, suffered injuries. The 6-year-old suffered a broken leg and the 7-year-old had hand, neck and back injuries as well as cuts to her face, the Yavapai County Sheriff's Office reported.
An airlift delivered both children to the intensive care unit (ICU) of the Phoenix Children's Hospital. They remain in recovery within the ICU.
Newsweek contacted the Phoenix Children's Hospital for comment.
Though bounce houses remain a regular feature of children's events, they have a poor reputation when it comes to safety, according to numerous reports.
A 2017 report by Stateline and The Globe found that most bounce house injuries occurred when operators failed to properly set them up or adults didn't supervise children's play to ensure they follow the structure's safety rules. The report also found that state regulations on bounce house maintenance and oversight remain spotty and loosely enforced.
In 2015, USA Today reported on the dangers of "large inflatables like moon bounces and slides" citing a report from the federal Consumer Product Safety Commission. A 2014 report from Time magazine also declared inflatable injuries to be "epidemic."
A 2012 study in Pediatrics found over 64,000 reports of emergency room visits related to bouncy structures between 1990 and 2010. The study discovered that the number of bounce structure-related injuries had increased 15 times from 1995 to 2010.
The study also found that 7-year-olds are most often injured from such inflatable play structures. The most common injuries are fractures or sprains to a leg or arm. Roughly 20 percent of bounce house injuries involve heads or necks.
Patients tended to sustain their injuries inside the bounce structures, due to falling into kids of different size, rather than because of being bounced outside of the inflatables.
Published at Fri, 21 May 2021 04:12:33 +0000
Attribution – For more Information here is the Article Post Source: https://www.newsweek.com/four-arizona-kids-injured-second-incident-this-week-bounce-house-being-lifted-wind-1593539