Ezra Blount's Family Sues Travis Scott for $1 Million After 9-Year-Old Dies From Astroworld Crush
The family of a nine-year-old Dallas boy who died after being trampled on during a crowd surge at the Astroworld music festival is suing rapper Travis Scott for at least $1 million.
Ezra Blount died on Sunday at Texas Children's Hospital in Houston, his family's attorney, Ben Crump, said.
The boy was placed into a medically induced coma after suffering serious injuries in the crush of fans during a performance by Scott, the festival's headliner, at the sold-out concert in Houston's NRG Park on November 5.
He sustained severe damage to his brain, kidney, and liver after being "kicked, stepped on, and trampled, and nearly crushed to death," according to a lawsuit filed by his family against Scott and Live Nation, the event's organizer.
The Blount family is seeking at least $1 million in damages, the Associated Press reported.
Meanwhile, a GoFundMe page set up by Blount's father, Treston Blount, to cover medical expenses has collected over $80,000 in donations.
In a post on the page, he wrote that his son had been sitting on his shoulders when they are caused by a crowd surge. "I began to be crushed until I couldn't breathe," he wrote. When he regained consciousness, his son was missing.
He told ABC 13 that he raced to on-site medic tents and several hospitals searching for his son.
It was only after filing a police report that he received a picture of his son in hospital from an officer, he said. When he arrived at the hospital, his son was on life support due to the severity of his injuries.
"The Blount family tonight is grieving the incomprehensible loss of their precious young son," Crump said in a news release on Sunday night.
"This should not have been the outcome of taking their son to a concert, what should have been a joyful celebration. Ezra's death is absolutely heartbreaking. We are committed to seeking answers and justice for the Blount family. But tonight we stand in solidarity with the family, in grief, and in prayer."
Many lawsuits filed
Ezra Blount's death brought the death toll from the festival to 10.
The ninth victim, 22-year-old student Bharti Shahani, was pronounced dead last Wednesday. The other eight victims ranged in age from 14 to 27, while hundreds more were injured.
Last week, Crump announced new lawsuits against Astroworld's organizers on behalf of more than 100 people who attended the festival.
"Families lost their high school children, their college children, people were injured greatly and nobody should ever die from going to a concert," he said at a news conference.
A criminal investigation into the incident is ongoing.
Crump, Scott's attorney and Live Nation have been contacted for comment.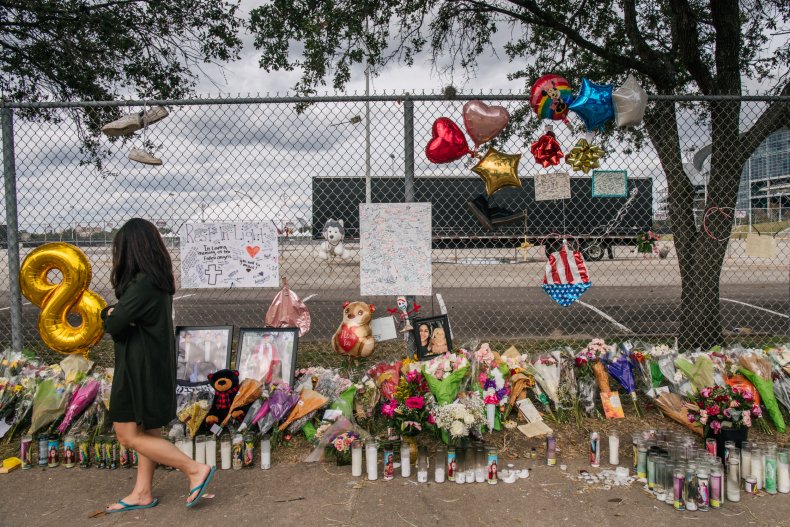 Published at Mon, 15 Nov 2021 08:59:40 +0000
https://www.newsweek.com/family-9yearold-killed-astroworld-sues-travis-scott-1649126