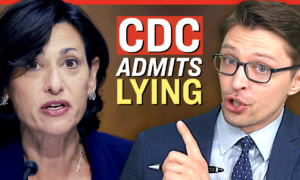 Last week, Dr. Rochelle Walensky, the current director of the CDC, issued a letter that was made public on Sept. 12, in which she admitted that the CDC gave false information to The Epoch Times in regards to their vaccine safety monitoring process.
Specifically, in the letter, Dr. Walensky admitted that despite telling us otherwise, the CDC was actually not analyzing certain types of adverse events (reported to their own database) throughout all of 2021—and instead, they only began their analysis of these adverse events in March of this year—despite the CDC telling us previously that they started their analysis process February 2021 (which we now know is false).
Resources:
🔵 Sekur:
🔵Dr. Walensky Recent Letter:
🔵 CDC Initial Promise:
🔵 CDC Flip-Flop:
🔵 FDA Refusal:
---
Stay tuned for our newsletter so you won't miss out on our exclusive videos and private events.
Listen to Podcasts:
iTunes Podcast: https://ept.ms/FactsMatterApplePodcast
Spotify Podcast: https://ept.ms/FactsMatterSpotifyPodcast
Google Podcast:
Follow Facts Matter on social media:
Twitter: https://twitter.com/FactsMatterRB
Truth Social: https://truthsocial.com/@FactsMatterRoman
Gettr: https://gettr.com/user/factsmatterrb
Gab: https://gab.com/factsmatterroman
Telegram: https://t.me/FactsMatter_Roman
Instagram: @epoch.times.roman
Click the "Save" button below the video to access it later on "My List".
Follow EpochTV on social media:
Twitter: https://twitter.com/EpochTVus
Rumble: https://rumble.com/c/EpochTV
Truth Social:
Gettr: https://gettr.com/user/epochtv
Facebook: https://www.facebook.com/EpochTVus
Gab: https://gab.com/EpochTV
Telegram: