Boxing Match Promoted to Combat Gun Violence Ends in Fatal Shooting
A boxing match promoted by an anti-violence advocacy organization ended in a fatal shooting on Saturday.
Around 200 people were in attendance for the match, held outdoors at the Skyway Plaza in St. Petersburg, Florida. The event was organized by the Neighborhood Boxing League, an advocacy group dedicated to fighting gun violence by encouraging community members to take up boxing. The event was reportedly titled, "Tampa vs. St. Pete."
The group's website reads:
"With the rise of gun violence around the country, The founders of The Neighborhood Boxing League decided that change needs to be made within the community. So they began the Guns Down Gloves Up Movement, encouraging people to express their anger and frustration in a different way. Rather than handling disagreements by grabbing a gun, how about fight it out and LIVE TO SEE ANOTHER DAY!"
The group's mission took a tragic and ironic turn at the Saturday event when gunfire broke out, bringing an abrupt end to the festivities. The shooting reportedly began when two groups at the event got into an altercation that escalated to violence. One person at the event was killed in the crossfire, with St. Petersburg police identifying the victim as 21-year-old Trevor Barton.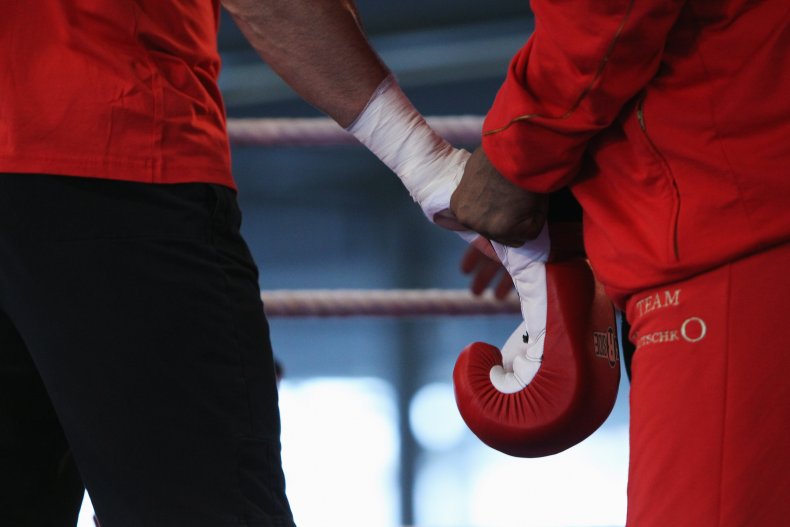 St. Petersburg councilwoman Lisa Wheeler-Bowman confirmed to reporters that she owns the property where the match was being held and regularly leases it out for events. She also said that Barton was a sibling of one of her employees.
Police reported that four other adults were injured during the incident, two men and two women. One suspect has been arrested in connection with the shooting, 21-year-old Robert Cooley. Police have charged him with carrying a concealed firearm and discharge of a firearm in public.
The department claimed that it had no knowledge of the boxing event prior to the shooting.
The investigation into the incident remains ongoing and more arrests are possible. The St. Petersburg police urge anyone with information about the incident to call 727-893-7780 or text SPPD plus the tip to TIP411.
Newsweek reached out to the St. Petersburg Police for a comment on this story
The Neighborhood Boxing League is a relatively new organization, having been founded in May.
"It's a good cause. I can take all my anger out on the person that I'm fighting," Pielay Marino told Bay News 9 after taking part in the group's lessons. "So after the fight I'll be like straight. I'll be like this man's friend. It just releases a lot of stress."
Published at Sun, 31 Oct 2021 21:35:42 +0000
Attribution – For more Information here is the Article Post Source: https://www.newsweek.com/boxing-match-promoted-combat-gun-violence-ends-fatal-shooting-1644327